The Cubric Clinical Method is a Comprehensive Paediatric Orofacial Medicine treatment
The Cubric Clinical Method is a comprehensive Paediatric Orofacial Medicine treatment based on the latest advances and techniques in all specialties related to Obstructive Sleep-Disordered Breathing (SDB), orofacial dysfunctions and the general development of children.
Due to their wide variety of manifestations, most of the time SDB go completely unnoticed by parents and are concealed behind other orofacial dysfunctions and structural alterations such as problems with feeding, sucking, swallowing, chewing…
Its causes, as well as its consequences, are diverse and can have many different origins related to almost all paediatric specialities.
The collaboration in perfect coordination of a team formed by different paediatric specialists who have a deep knowledge of SDB is essential because treating only one of the factors does not offer a long-term solution for patients, nor the remission of SDB.
Dr. Patrícia Cubells Ricart has been a pioneer in the creation and coordination of the first multidisciplinary team with these characteristics, providing a comprehensive, complete, and early treatment for SDB, which allows to offer the best possible solution for patients.
It is based on 4 essential pillars

Detection and treatment as soon as possible are of great importance to minimise sequelae in global development, with the ideal treatment age before 5 years old. At that time, their growth potential decreases exponentially and 85% of craniofacial growth is already completed.

Comprehensive Diagnosis and Treatment
In order to eliminate all causes of obstruction, respiratory dysfunction and developmental consequences, coordination between paediatricians, orofacial orthopaedics specialists, ENTs, and myofunctional speech therapists is essential. Collaboration with psychologists, physiotherapists, allergists, paediatric dentists, sleep specialists, nutritionists and pulmonologists cannot be forgotten.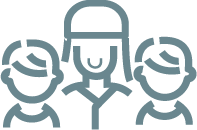 24h Nasal Breathing is the only guarantee of long-term elimination of SDB and can only be achieved with a complete multidisciplinary treatment and close collaboration between the different specialists involved.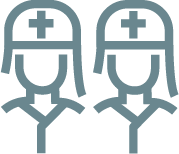 A person that coordinates the action of the different specialists, ensuring unity of criteria to avoid contradictory messages from the different specialists, and a previously established clear path of collaboration.
Thanks to the Cubric Clinical Method
In a few days your child will begin to recover their proper growth and progressively improve their breathing and development, in a totally painless way, and without changing your daily routine.